One of the greatest joys of dining out is ordering a beautiful, fancy cocktail with at least one ingredient you've never heard of before. Great craft cocktails can automatically upgrade a night from a 5 to a 10. But they can be equally fun to make at home, I swear. And what better way to show a loved one a little extra TLC by making them a beautiful, fancy, restaurant-quality cocktail in the comfort of your own home?
This Valentine's Day, try your hand at the Pink Moon: one of the signature cocktails from Arrowood Farms' Apiary Bar. Arrowood Farms is a sustainably-minded farm brewery, distillery, and dining destination located in Accord, NY. Arrowood started as a hops farm with sustainable and responsible growing practices and has since evolved into a world-class brewery and craft distillery with an onsite food and beverage program that showcases the bounties of regional farms.
When it comes to their liquids, Arrowood takes pride in sourcing ingredients locally and using traditional methods that let these wonderful ingredients express themselves naturally.
All of the grains for the spirits are sourced through partnerships with other small NY growers, many of which are located directly in the Hudson Valley.
To make the Pink Moon, start by finding yourself a bottle of Arrowood Dry Gin – it can be found at a number of local retail shops, which will be listed at the bottom of the page. Or pay a visit to the beautiful farm at 236 Lower Whitfield Rd, Accord, NY to purchase a bottle from the source!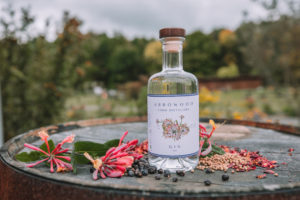 See the full recipe below:
Pink Moon
2oz Arrowood Farms dry gin

¾ oz fresh lemon juice

1 bar spoon of raspberry preserves

¼ oz of simple syrup

1 Egg white
Place all ingredients into a cocktail shaker and dry shake (no ice) 6-8 times to mix ingredients together. Add ice to the shaker and shake until chilled. Double strain into a chilled coupe. Garnish with a few drops of elderflower or raspberries for Valentine's Day. Enjoy!
Arrowood Farms Dry Gin is a floral London-dry style gin handcrafted in small batches. Made with local rye and wheat. Distilled on the grain. Showcasing honeysuckle, chamomile, rosehip, orris root, lemon thyme, coriander, bergamot, and juniper. It is 45% ABV | 375ml.
Find it in the following locations:
Bluebird Wine Shop
Accord
Boutique Wines, Spirits, Ciders
Fishkill
Elevated Wine & Spirits
Hunter
Ester Wine & Spirits
Kingston
Wright Farms
Gardiner
Grapefruit Wines
Hudson
In Good Taste
New Paltz
JK's Wine & Liquor
Kingston
Kerhonkson Wine & Liquor
Kerhonkson
Kingston Wine Co
Kingston
Miron Wine & Spirits
Kingston
New Paltz Wine & Spirits
New Paltz
Rhinebeck Wine & Liquor
Rhinebeck
Sipperley's Grog Shoppe
Red Hook
Stone Ridge Liquor
Stone Ridge
Strickland Hollow Farm
Delhi
Summerlin Wine & Spirits
Wappingers Falls
The Wine Store
Marlboro
Thruway Fine Wines and Liquor
Walden
Town & Country Liquors
Saugerties
Twenty-Two Second St Wine Co
Troy
Windmill Wine & Spirits
Saugerties
Wine Hutch
Kingston
Woodstock Wine & Liquors
Woodstock